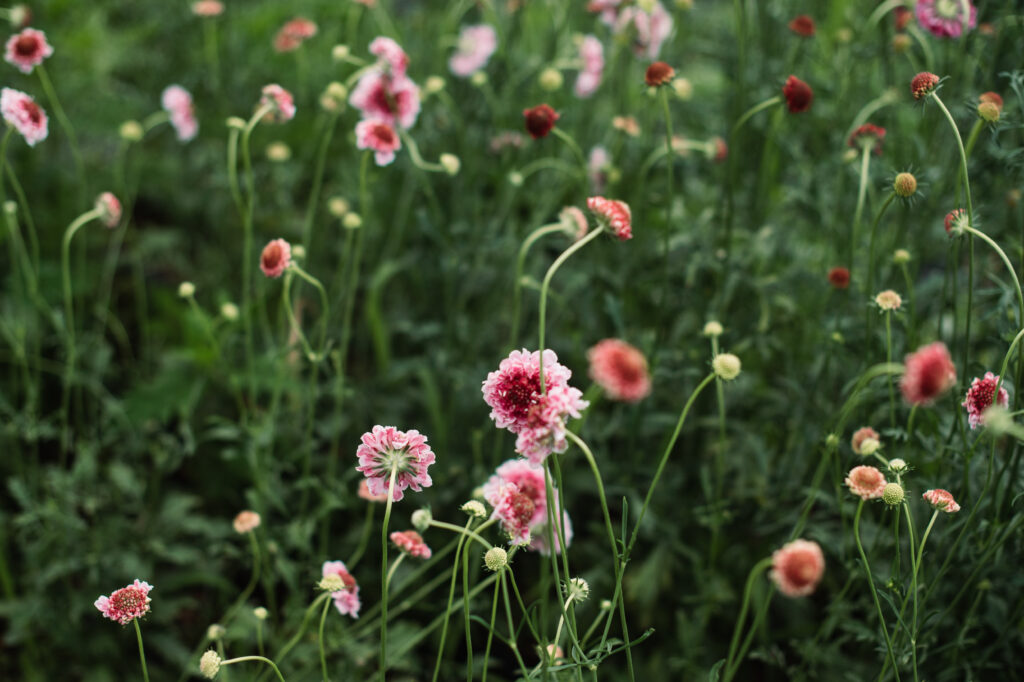 Summer is such an incomparable time on the farm. Morning harvests are rich, colors appear in vibrant hues, and summer rain showers pop in and out as a treat for our flowers. Our shop is overflowing with buckets showing what a little bit of summer and a whole lot of hard work brings. While our customers and shop visitors see the harvest, it isn't always magical behind the scenes. With longer summer days comes more challenging work. Sometimes we are unable to expend our energy for longer hours due to the intense humidity. Sometimes air quality is rough, yet we do what it takes (and dress how it takes) to get the job done. Sometimes we lose a furry friend that makes our souls ache (see this post here to read words from Becca about losing our alpaca, Puck). Yet, the joy from working out in nature and the gift that it brings in return is worth it all.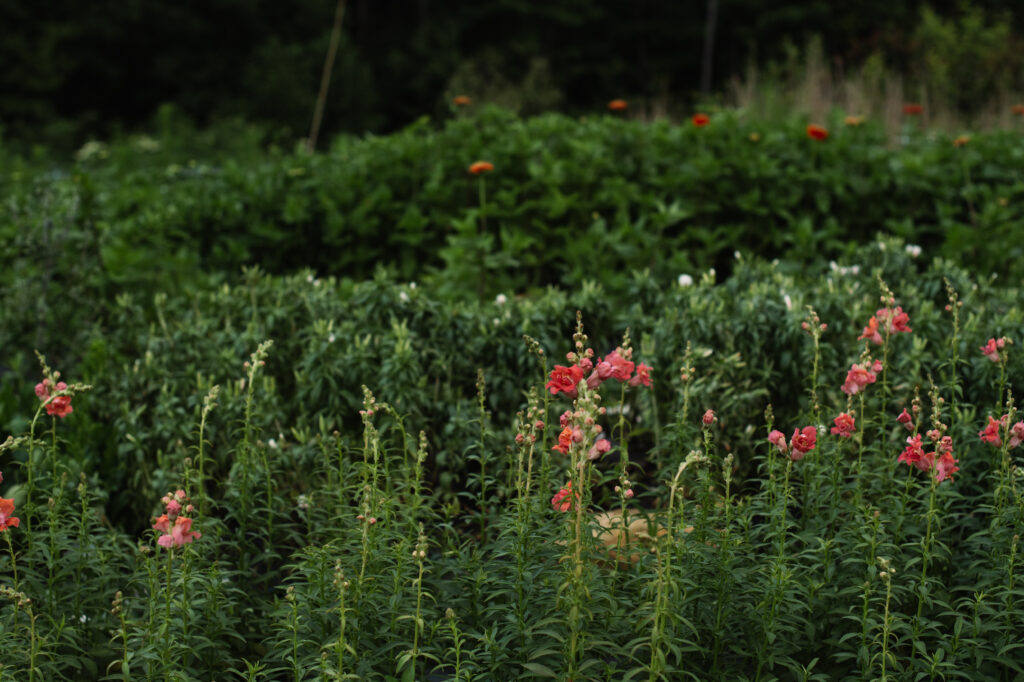 In our upcoming July blog post, we'll invite you into more of those behind the scenes moments full of hard work. In today's post, we'll show you what hard work brings. Our summer flowers really start to bloom the first of July. In this post, I am feeling particularly in the spirit to share how to use eight of our summer flowers in a way that really highlights their beauty. Alongside the flowers I've chosen to showcase below, we also grow sunflowers, Queen Anne's lace & chocolate lace, celosia, statice, mexican sunflower, echinacea, garden roses, snapdragons, dianthus, phlox, marigold, cosmos, gomphrena, verbena, craspedia, and lilies. You can make your own bouquet with all of these flowers in our shop at 1263 Market St. in Chattanooga, TN!
Nigella
Nigella is great for a pop of blue in a bouquet. Erin recently used nigella in a wedding bouquet with white flowers such as mums, feverfew, and baby's breath. If you're going for that fresh blue and white summer vibe, nigella is a unique flower you may love!
Scabiosa
Scabiosa, or pincushion, is a genus in the honeysuckle family. These uniquely shaped, eye-catching flowers are becoming my new favorites! They also attract pollinators such as bees and butterflies– critters very useful for our farm. Since they come in a wider range of colors like purple, pink, burgundy, and white, a large handful would look gorgeous in a clear vase on your kitchen table. Add these in a dried flower arrangement for some texture.
Dahlia
A well-loved addition to our shop in mid-late summer, dahlias make a statement like no other. They symbolize lasting love and lifelong commitment, ideal for a statement in a wedding arrangement. Arrange them in a rainbow with peach, yellow, pink, burgundy, and white hues or grab some burgundy blooms and a gold vase for a moody look. There are some in our shop now, and you'll start to see our shop turn into a wonderland with hundreds of dahlias in September!
Zinnia
One of the easiest summer blooms to grow with an explosion of color, zinnias grow quickly and bloom heavily. They just look like they're having a good time. Their stems provide so much movement! I personally like to pair zinnias with dahlias for visual similarities and bold color.
Rudbeckia
Rudbeckia, or coneflowers, are cheery in appearance with their bright yellow hue. If you like a wildflower look, they look wonderful by themselves in a bud vase on your bedside table. Pair them with some yarrow (pictured on the left) for a complementary pop of pink. I have also seen these beauties used in flower crowns!
Thistle
These large, spikey flowers are probably one of the most unique to our farm PLUS they dry very well. Thistles provide muted color and texture with their contrasted feather blossoms and sharp foliage. Pair them with nigella for a monochromatic look (pictured again on the right) or add them to some bright orange roses for a twist. If you're looking for a cool arrangement option, check out these tiny vases Erin hung from the ceiling at a recent wedding!
Strawflower
Strawflowers are Ryan's favorite to arrange in the shop! They also dry very well. He has paired them beautifully with dried flowers such as pampas grass, billy balls, amaranth, and purple limonium. Wrap them in burlap or brown kraft paper and twine for a woodsy look. (tip: When you're drying flowers, hang them upside down tied together with a rubber band in a cool, dark place.)
Lisianthus
Oh how my heart sings for this dramatic beauty! Lisianthus can grow to be a pretty large flower and add a statement to any arrangement, although I think they're elegant by themselves too. The best part about this flower in my opinion is the center– a pop of yellow! I love to pair them with roses and peonies or dahlias to carry on the sophisticated look.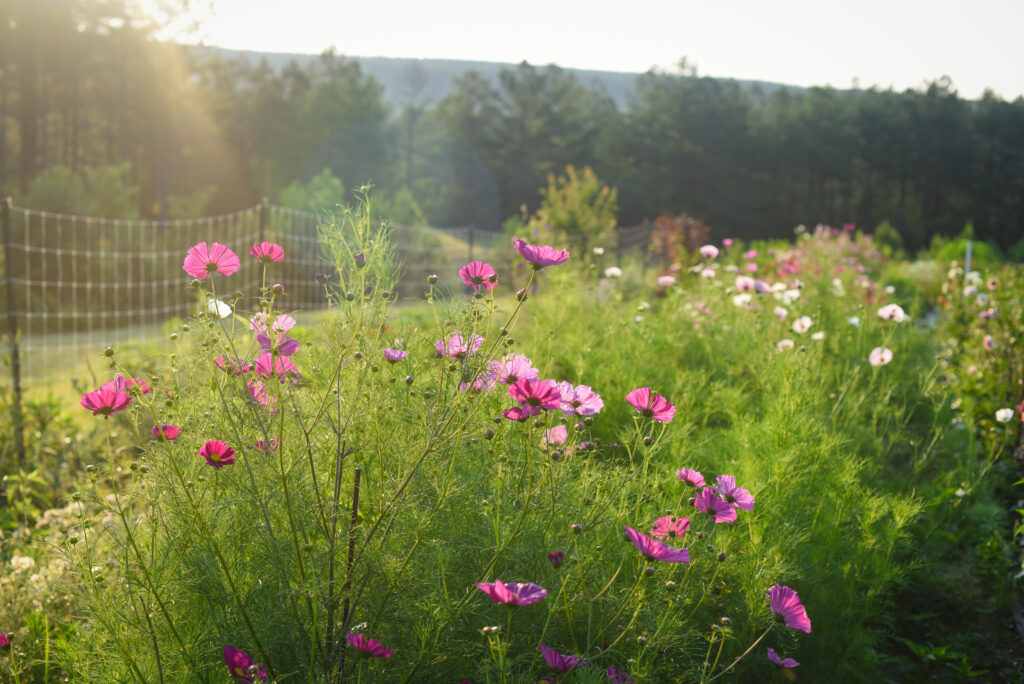 Our flowers are priced per stem in our Market St. shop. We have all different types of vases to purchase in shop or we are happy to help arrange your blooms in your favorite vase from home. Come stop by to see the beauty that summer brings!