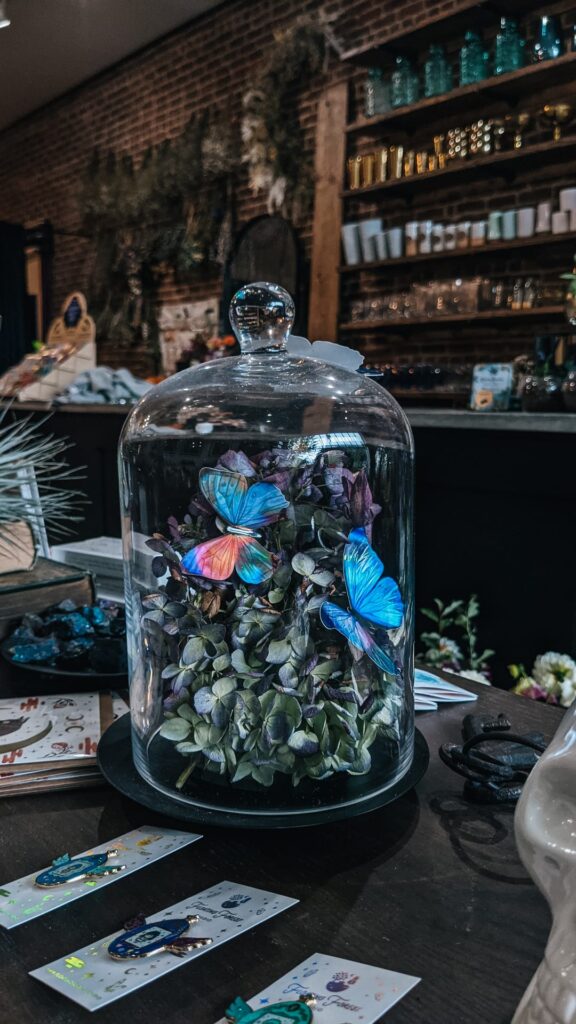 Our Market St. shop has become a labor of love that we are immensely proud of. We had visions of a European market, and it has been nothing short of pure joy to intentionally create a space that embodies this style of shopping. European flower shops provide an opportunity to create your own bouquet with a wide range of flowers priced per stem. A wrapped bouquet looks simply divine, appearing as though each one was carefully crafted with someone special in mind. French boutiques provide a gift selection that is high quality in appearance and thoughtful in intent. From building your own bouquet to selecting a unique gift for an occasion, we have always strived to create an experience in our shop.
We touched on Becca and Erin's behind-the-scenes thoughts on developing the shop during last month's blog post called 1 Year Shop Anniversary Q & A. However, in this article, we would love to invite you into the boutique section of our shop. We truly believe in shopping local, and we are immensely grateful that our loyal customers do too.
When you first walk through the door, you will see our plant section to the left across from our flowers. We have redesigned and added onto this space many times throughout the year, and we are proud of how full and vibrant it looks today. Easy-to-care for houseplants, sustainable soil mix, clay balls, and gorgeous gardening tools from Barebones live in this section. We used Barebones products on the farm before we ever carried them in store and will continue to utilize their functional, beautiful designs!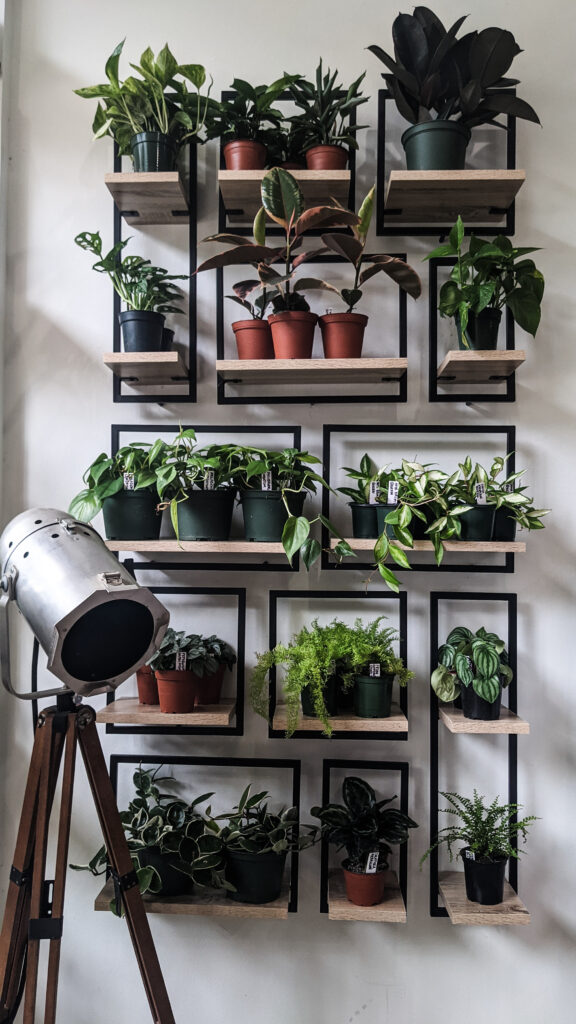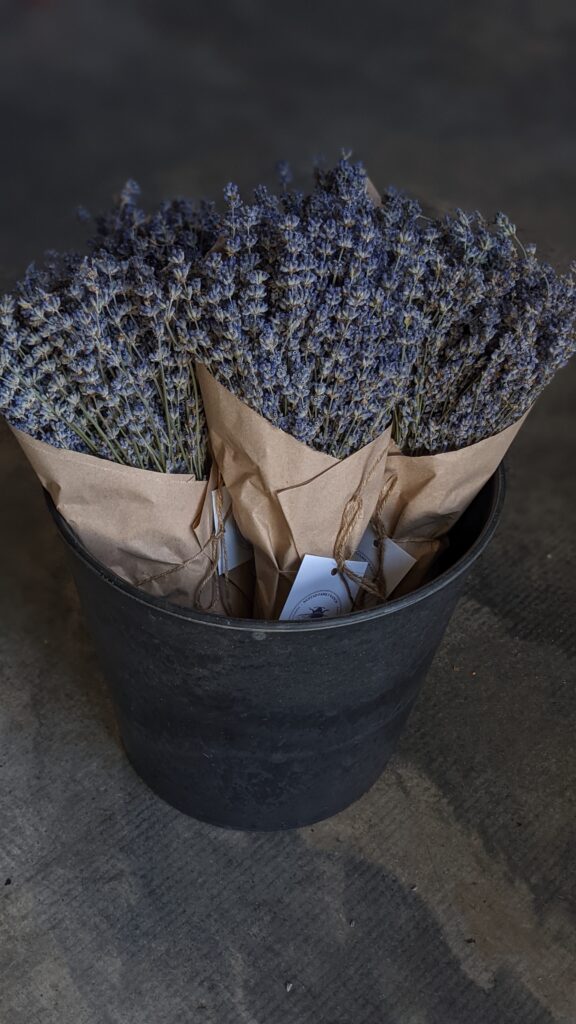 Far beyond what you see aesthetically, the majority of our products are from local and small businesses. These aren't items you could purchase from Amazon nor ones you would typically expect to receive as a gift. Natty Naturals, a local Chattanooga business, makes organic hair and skincare products. Erin is a big fan of the 'Lavender Chai Coffee Scrub' for her hands, Becca loves the 'Black Coconut Leave-in Conditioner', and I (Ashley) just started using the 'Cacao Clay Mask'. We carry other natural products such as soap, dry shampoo, hand sanitizer and more right beside our plant section.
In the center of our boutique, we have gorgeous crystals and rocks that make for a magical gift. From amethyst to fluorite to some bigger celestite pieces, they are perfect for your favorite rockhound or witchy loved one. Surrounding our crystal table is our large selection of perfumes. TokyoMilk scents from Margot Elena are one of our best selling brands. We have increased our inventory over the years to perfume bottles, perfume lotions, shea butter hand creams, and candles. TokyoMilk Dark is a unisex line we are excited to offer. Olivine Atelier perfumes, another customer favorite, always sell out quickly and are a fascination by design with crystals floating in the liquid! These perfumes are phthalate free, paraben free, vegan and cruelty free, so they're ideal if you have sensitive skin like me.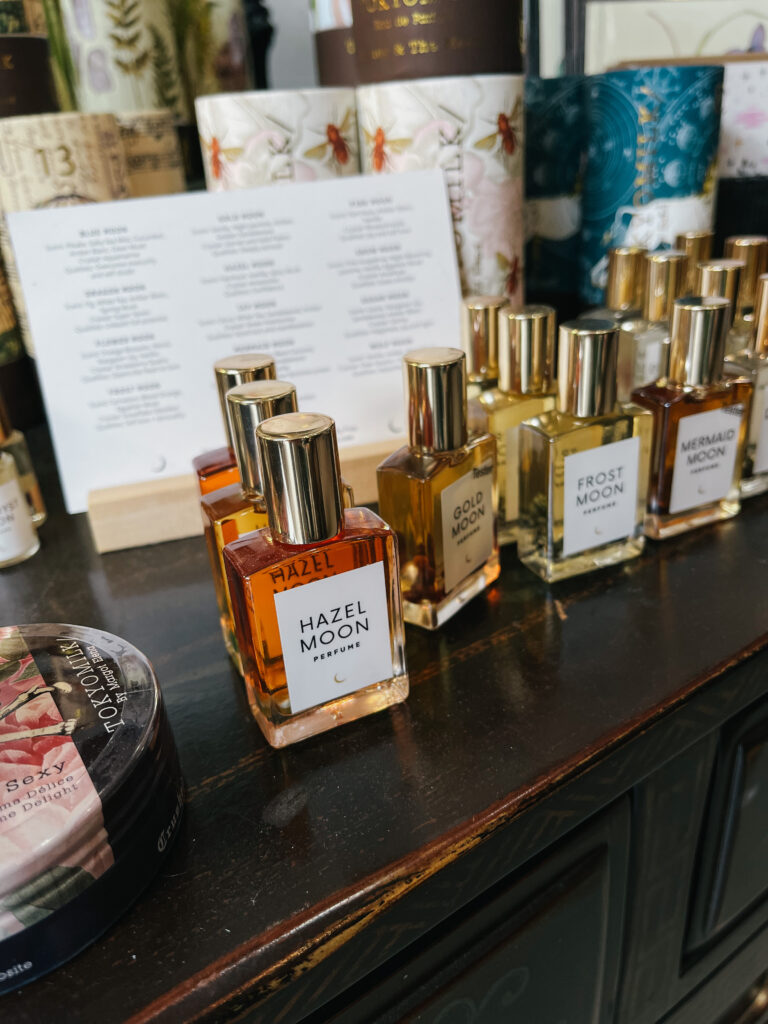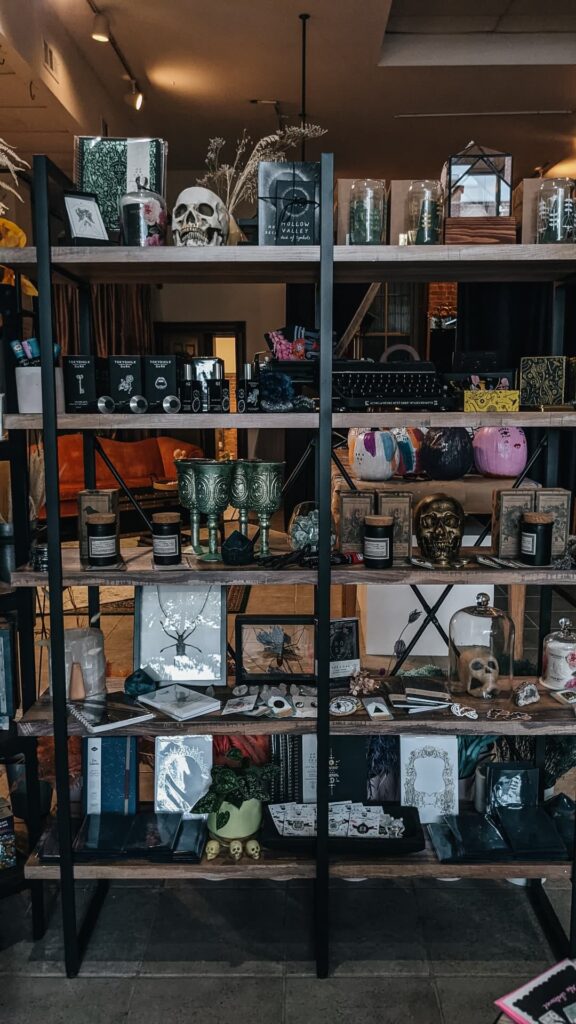 Our larger shelf in the store houses a wide range of products from candles, earrings, stickers, pride items, tarot cards and apothecary items. We value apothecary brands such as Lunar Logic Wild to promote health and wellbeing. They develop formulas to make oil drops that target specific needs while keeping their focus on sustainability and quality ingredients. We purchased our candles from Nustad Family Ranch a well-loved line of natural products, because they are 100% essential oils based (our lavender bundles and lotions up above are from this brand!)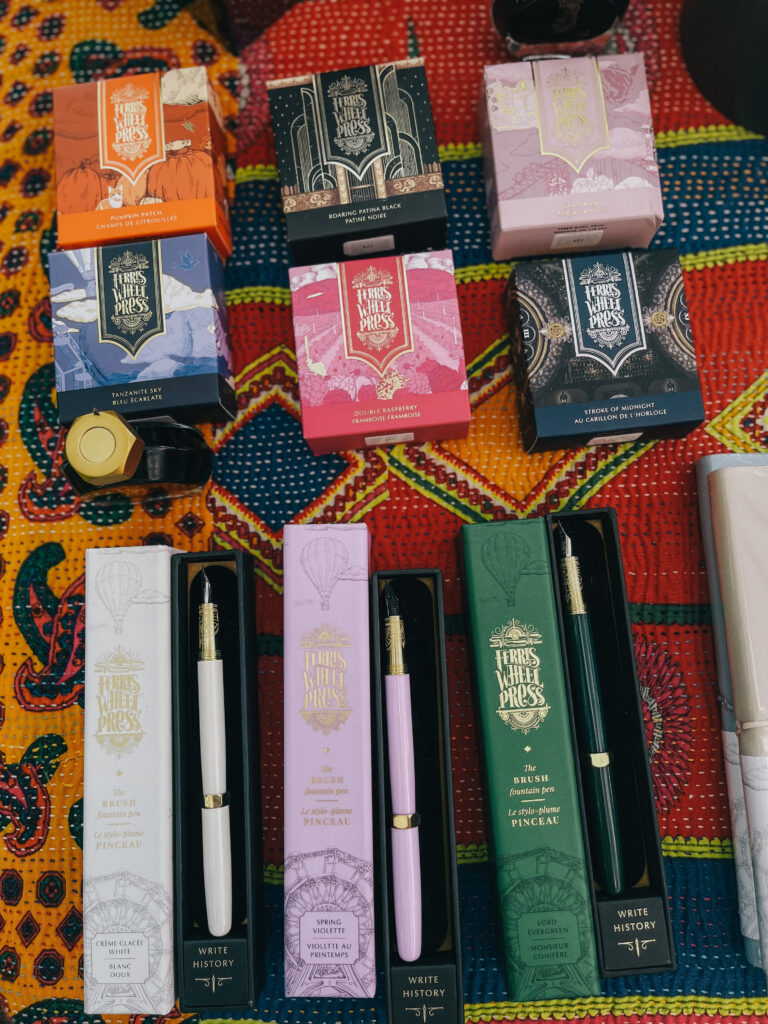 Calling all old-fashioned ink lovers! Becca is in awe over our new products from Ferris Wheel Press, specifically our collection of fountain pens and ink bottles. Upon unboxing their packaging adorned with hot air balloons and gold foil, you will find a bottle with a jewelry inspired silhouette and a brass cap. Some of our pen styles are capped with 14k gold! These products are housed on our newest shelf which was added in our shop to create a brand new section. We're excited to update via social media on this little expansion.
Ryan is basically a merchandising genius, and he's able to make beautiful use of forgotten spaces or hidden opportunities within our four walls daily when putting out new inventory. You will find smaller items like keychains and pins placed in the sweetest spots. Hemleva is a brand owned by a botanical illustrator named Samantha who designs fun pins. We also carry products from international small businesses such as Dreamy Moons journals straight from Australia!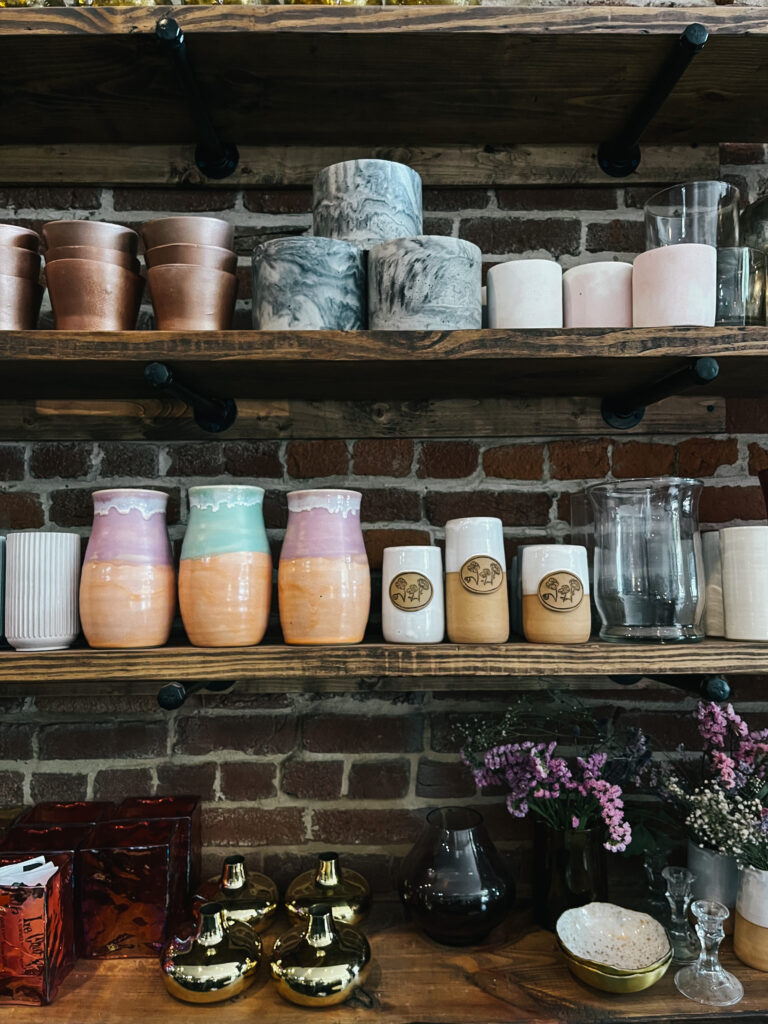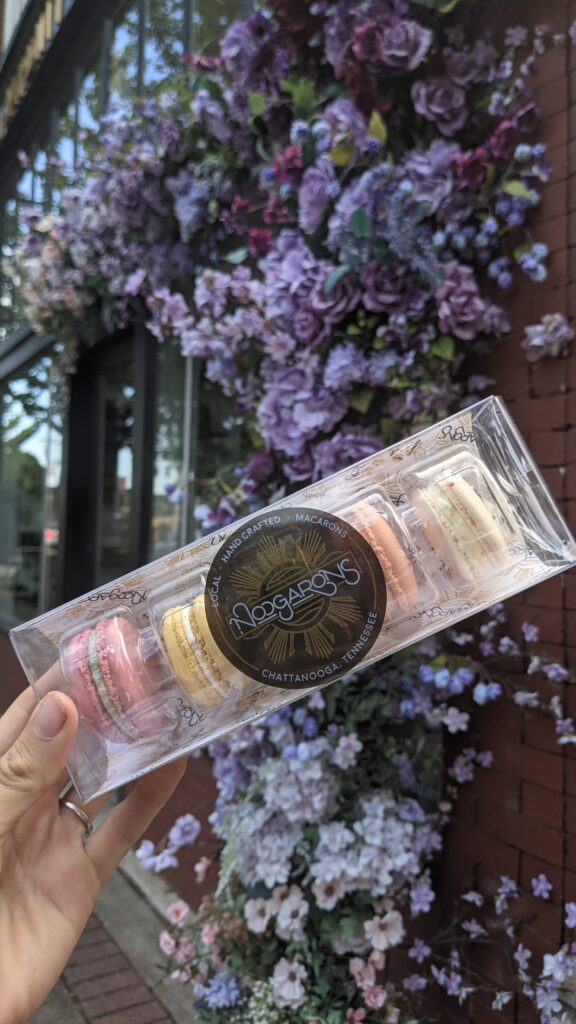 To our Chattanooga friends and travelers alike, we welcome you into Joli Jardin at 1263 Market St. Come say hi and grab some locally baked Noogarons to munch on as you check out our wide array of products. If you're out of state, visit us online! We believe there is truly something for everyone. Thank you from the bottom of our hearts for shopping small.