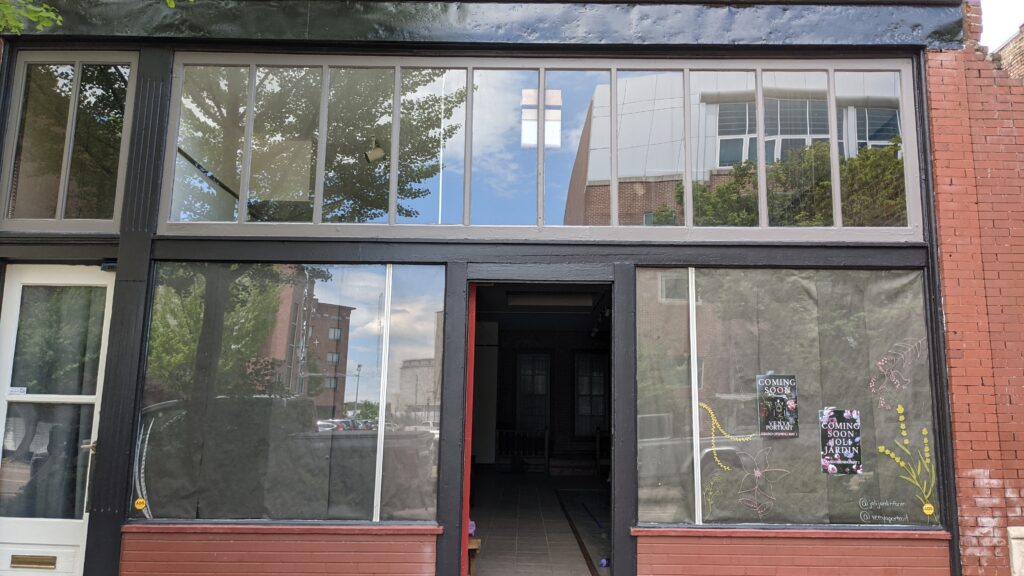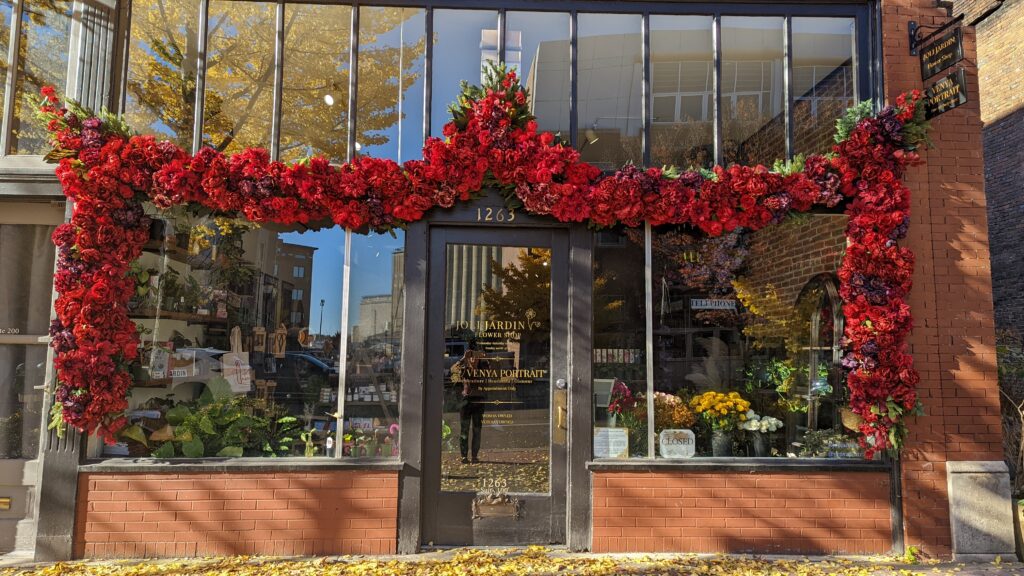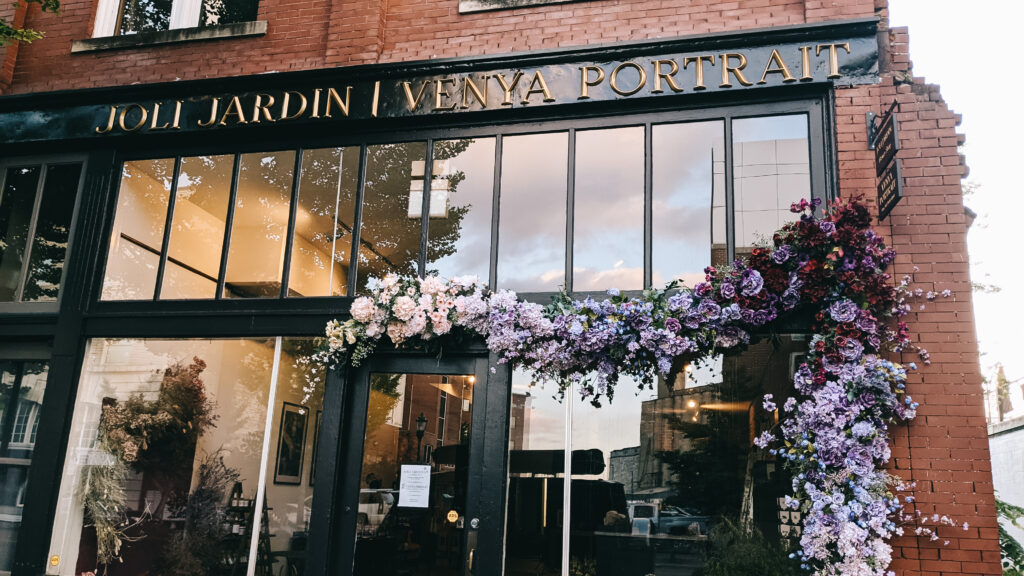 Hello flower friends! My name is Ashley Barker, and I am the newest addition to the Joli Jardin team. Nice to e-meet you! One of my roles as the Marketing and PR Coordinator includes delivering behind the scenes content to readers on the blog. Not only does this excite the big reader in me, but I am humbled and honored to have the opportunity to witness these two wonderfully inspiring women, Becca and Erin, as they work to build the flower business of their dreams. We want to invite the Joli Jardin community into our special moments and milestones. Today, we reflect over the 1 year anniversary of our Market St. shop with a roundup of photos from our shop beginnings and a Q & A!
1 year! Can you believe it? I'm sure time has flown by. How are you feeling?
Erin: Overwhelmed with gratitude and ideas for the next year ahead! Things are always changing and growing, and it's exciting to have the opportunity to keep evolving.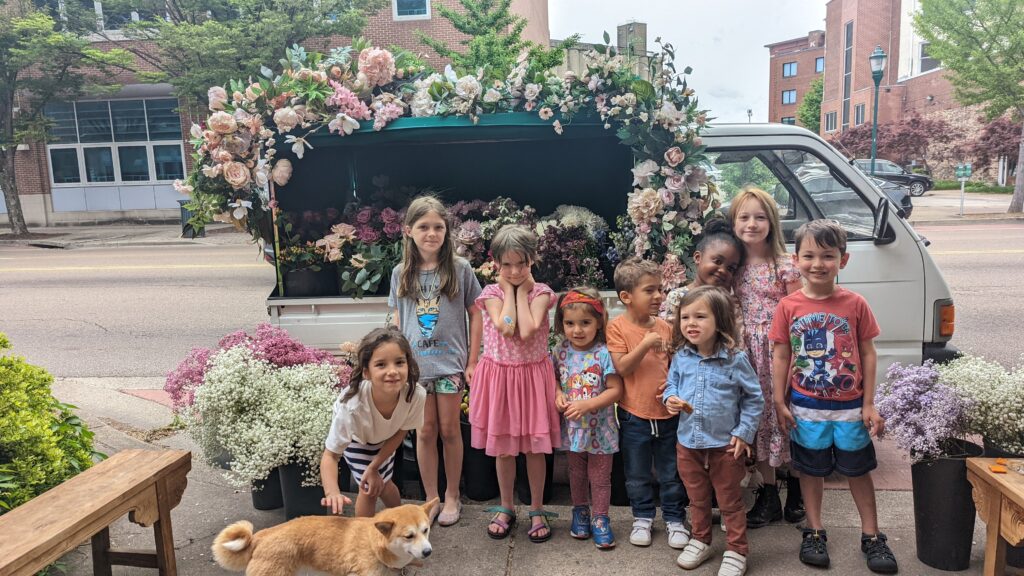 What do you feel floral shops lacked when you were brainstorming about how Joli Jardin would stand out? What did you feel Chattanooga lacked?
Becca: Floral shops in the US tend to be a bit stuffy or not walk-in friendly. We wanted our shop to feel more like a market. We cater to someone buying one stem to someone buying buckets of stems. Our shop took inspiration from European and Japanese flower shops.
Erin: For sure! Thinking back on the way we made some of those decisions, it was less about identifying a lack of something in Chattanooga and more about looking around at what inspired us. Whether that inspiration came from our travels or what the many wonderful farmers and designers were already doing, we identified a path that would allow us to create our space and collaborate with others in our industry rather than compete against them.
What is something you didn't expect to experience as a shop owner prior to opening the shop?
Becca: There is something special about having a brick and mortar shop in the era of online shopping. Our customers are looking for an experience, and we have created that with our shop. It wasn't even really intentional. We just knew what we personally liked and it seemed that others felt the same way. Everyone is so complimentary and kind when they come into the store. We are so grateful for that.
Erin: I was actually thinking the same thing when I read this question. Ryan and I have both worked as managers over corporate retail shops, and the in-person experience was not always great. I wasn't worried about that in our store. It has been a relief that the atmosphere we've worked so hard for feels genuinely inviting and comfortable for both the customer and for us. In our past jobs, it felt like we were desperately competing against online shopping, whereas our shop feels like a reprieve from it– a chance to actually have a conversation about our work and our flowers.
Can you share a bit about the challenges and obstacles you've had to overcome along the way?
Erin: This might sound corny, but I look at obstacles as parameters to work within or around. In the past when people have asked us this question, the answer was covid. However, it set the parameters that lead us to focus on paths that made the most sense for our business. My biggest challenge is time management and grappling with the conflicting messages that come with taking on any major career or life goal. On one side we're bombarded with messages about being a "girl boss," (yuck) a term that glamorizes the grind, making it sound as though you can't succeed unless you're always working and acting like a powerful badass all the time.
On the other hand, the larger conversation about mental health and self-care is becoming louder and less stigmatized. We're hearing more about taking breaks and working less. It can sometimes be difficult not to let the pendulum swing too far in either direction. I think it's important to be honest about these things because it's the only way to keep burnout and imposter syndrome at bay. Work hard and celebrate your successes but take time to rest your brain and body so you don't become anxious and creatively tapped too quickly. There are big obstacles (Mother Nature, supply chain issues) and daily challenges (work/life balance) but we are trying to handle them – and ourselves – with grace.
How has having a shop heightened your knack for creativity?
Becca: Erin and I both come from creative backgrounds. We have felt very fulfilled with being able to express our creativity with florals. By having our own shop, we get to do things our way, no matter how crazy the idea is. We have complete creative freedom. If we have a floral idea that doesn't necessarily fit the vibe the shop has, we have future opportunities to create those floral pieces for other customers. Or maybe we will have a floral art show. Or maybe partner with an art gallery. The opportunities are endless and it's beautiful.
What is one piece of advice you would give to small business owners or someone who is interested in starting?
Erin: I say the same thing every time, but I stand by it– find your people and trust yourself. A mantra in my household growing up was "surround yourself with positive people." I always connected it to peer pressure or bullies, but I've realized it's less passive than that. If you connect with positive, motivated people whose lives and goals you believe in, they will often reciprocate the sentiment. Not only have we found that balance within our small team but in the business community surrounding us. It's much easier to succeed when you're working with those around you who are trying to accomplish their goals WITH you. On May Day, we spent the day celebrating accomplishments with many of those friends whose work inspires us to keep expressing ourselves through our work.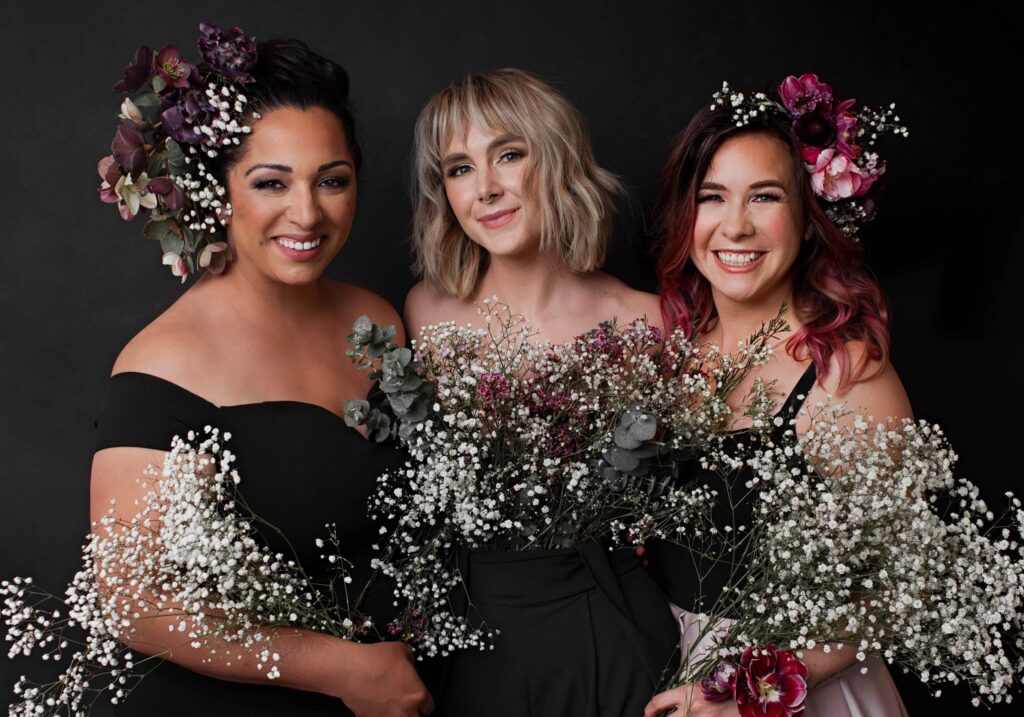 What has been the most rewarding part of running Joli Jardin?
Becca: Making people happy. Flowers are a gift, to oneself or to someone else. There are very few things in life we do that are fleeting and beautiful. It's an experience we love sharing with our clients and customers.
Erin: 100% same. We make genuine connections with our clients and shop guests. Every single day is a new conversation, a new chance to make someone's day. It sounds like a fluffy fairytale, and I'm not saying it's always easy, but it's definitely rewarding.
What shop news should we share for the season ahead?
Becca: Stay tuned for more workshop announcements and special events!
Our hearts are overwhelmed with gratitude for the Joli Jardin community. To anyone who has visited our shop and taken joy in what we've created, thank you for stepping into our flower wonderland. You have helped our dreams come true. A HUGE thank you to these amazing artists and local vendors who were a part of our May Day celebration on May 1st. We are immensely grateful for your time and energy. The day wouldn't have been what it was without all of you there!