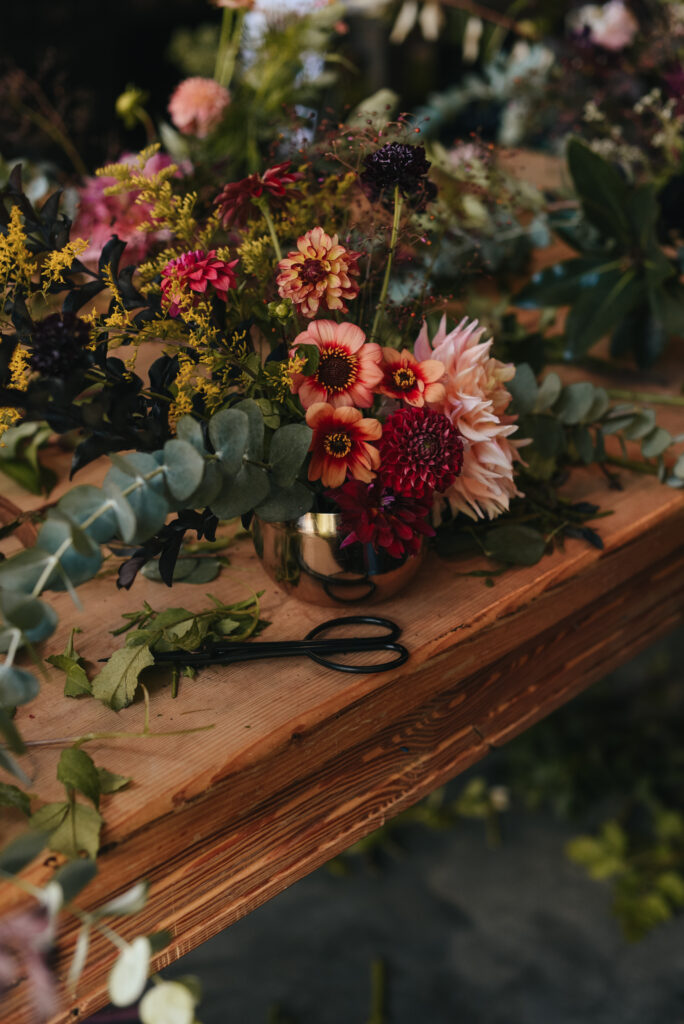 This August, I discovered there's nothing quite like a workshop when it comes to spending time with our lovely customers and flower friends. Throughout the month, I had the pleasure of assisting in the planning process, creating promo, and then attending my first two workshops as Joli Jardin's Social Media and PR Director (Ashley here!). What a wonderful experience this was. Aside from keeping an eye out for noteworthy details and snapping away on my camera, I was incredibly fascinated with the energy that filled the room. Creativity was exercised in every moment. Personality was displayed in thoughtful ways throughout every arrangement. The collaborative effort between attendees was so refreshing. And Erin, our in-house designer, voiced to me that these opportunities always teach her so much about her own craft.
Take a look into the magic that fills the space in our monthly workshops and walk through some of the moments I enjoyed most. You'll also find our workshop dates for the rest of the year at the end of this blog post. (Woohoo!) So mark your calendars and get ready for all the cozy, holiday-themed evenings!
For some reason, the beginning of the evening feels exciting as we wait for all who purchased tickets to walk through the door. Every time the little shop bells ring so melodiously, we get to see the familiar faces of dear friends or meet someone we've never met before. Some attendees bring their moms for a fun mother/daughter date. Many come alone but soon feel welcomed by the great conversation and anticipation that everyone else holds for the flower arranging to begin. Erin, our wonderful in-house designer, is obviously passionate about flower arranging. I have witnessed that time and time again through wedding design or on an ordinary shop day but in new ways during a workshop. She begins explaining color theory, tips on getting started, and how to work the theme of the evening into your arrangement.
As everyone begins grabbing their greenery, the space turns into a beautiful mess. It is truly the evidence of creativity sprawled among the table that gets me… kind of like when you're a kid at craft time finding joy in every step of the process. You're lost in time and forgetful of the world around you for a brief moment. Everyone begins to chat about the vision for their arrangement as flowers make their way onto the table. Throughout the arranging process, Erin is continually providing one-on-one assistance and tips until everyone is happy with their personal creations. She is quite wonderful at filling the room with encouragement. What I love most is how nothing feels too stuffy– the teaching, the conversation, or the way she welcomes everyone to implement their own personality into the arrangement.
As our evening comes to an end, everyone carries such a confident energy in their creations. Erin and I said this may have been our favorite part. Compliments are voiced willingly and nothing feels as daunting about the creative process anymore. It's in these moments when everyone on the team is grateful for what we do. I am always thrilled to interact with our customers face-to-face as opposed to via social media. Workshops may be my favorite way of doing just that.
Here are our upcoming workshops dates for the rest of the year!!!
September: Autumn Dahlias
Wednesday, September 28th
October: Spooky Dried Florals
Sunday, October 16th and Sunday, October 23rd
November: Dried Wreaths
Sunday, November 6th and Sunday, November 20th
December: Christmas Centerpieces
Sunday, December 4th and Sunday, December 18th

Tickets are available for purchase here or clicking on the titles of each workshop above. Please note that we only have 8 available spots at each workshop date. Keeping the group smaller allows Erin to remain hands-on and available to offer assistance to all attendees. If you have your eyes on a date, go ahead and purchase tickets to secure your spot! Upon purchasing a ticket, please fill out the form that corresponds with your workshop theme to let us know which date you will be attending. See you soon!