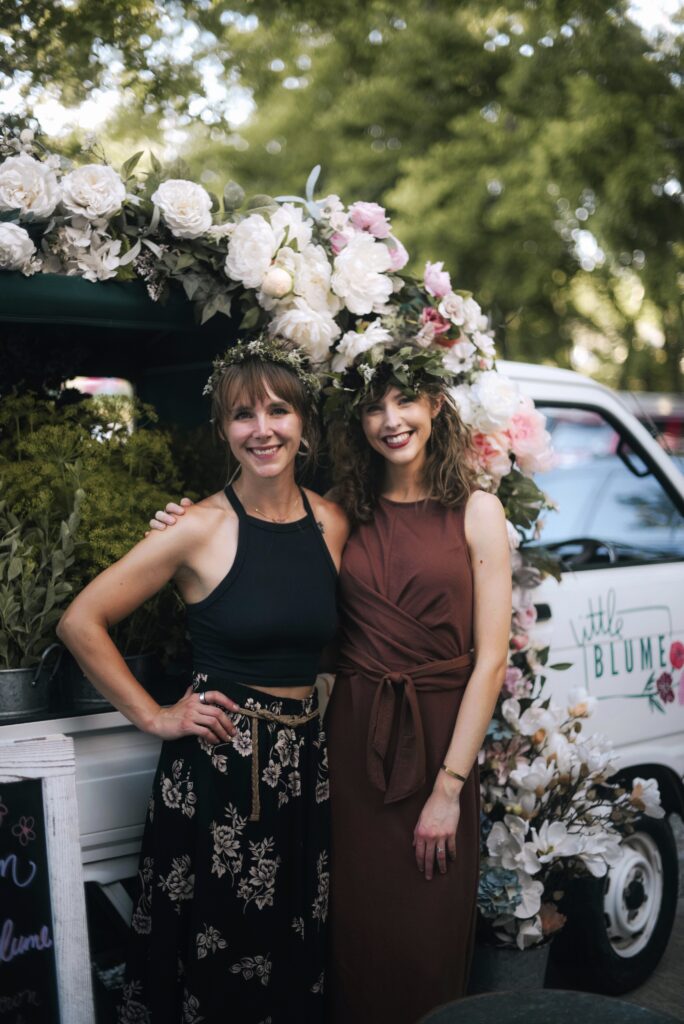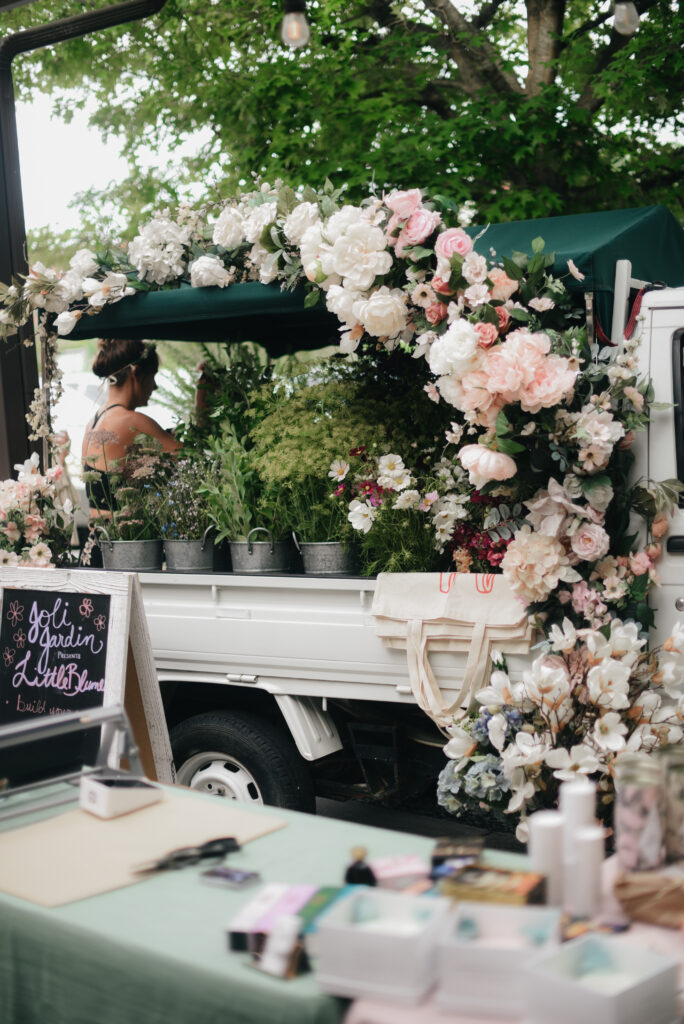 Ashley here, Joli Jardin's Social Media and PR Director (pictured above wearing the burgundy dress!) One of my most special moments working in this new role so far was experiencing Chattanooga's fashion month. Back in June, I introduced myself in an Instagram post where I shared a little about my switch from the New York City fashion industry into a job field that aligned more with my heart's values and desires. Throughout this blog article, you will find beautiful photos from two fashion events we were a part of, Le Chat Nooga and Unwine in Style, along with a little about our creative vision for both. Most of what you will read, however, is my personal experience and perspective on such a different and wonderful opportunity I had in Chattanooga, TN compared to NYC.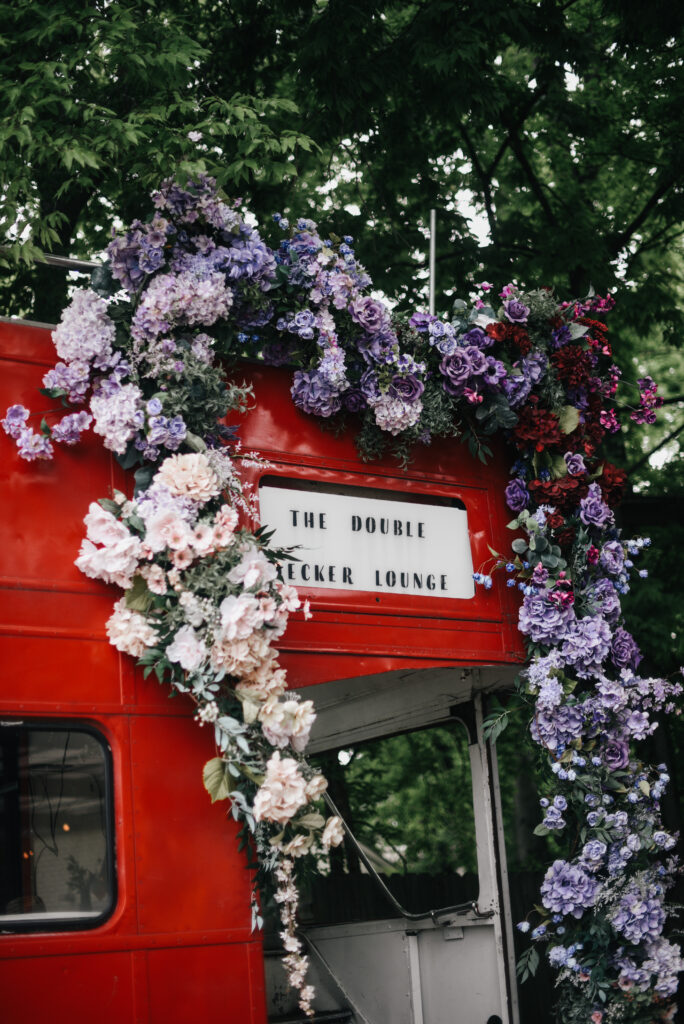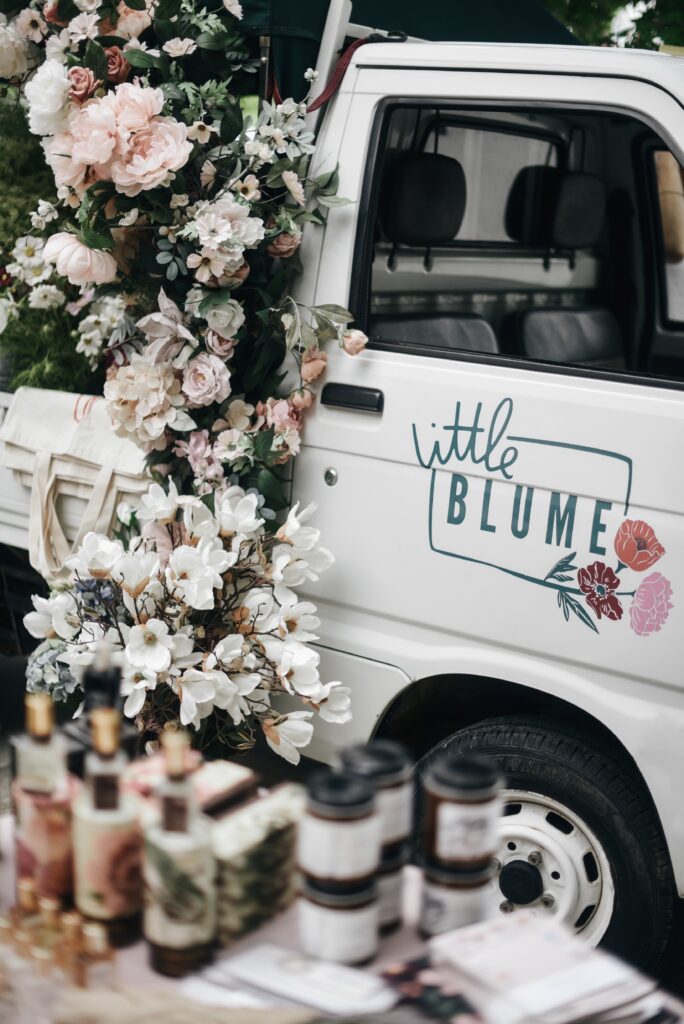 My experience working at a show during New York Fashion Week played out like a meticulously scripted movie scene and looked like a dream. In some ways, it was. I loved greeting others and having a hand in executing a storytelling vision of beautiful clothes. It was quite impressive. Surrounded by elite models, seated near prominent designers and influencers, and positioned next to cameramen from Vogue felt like my dream fell right before my eyes on a single afternoon. The scene was very Devil Wears Prada but without "the devil" (I was very blessed to work for wonderful people.) However impressive it seemed, I personally craved something at the end of that day I never truly realized until a year later… the splendor of life.
Think of the memories you reminisce over when you can recall laughing, bonding, emotion, good conversation, a little nostalgia and an overall vibrancy especially in the small moments. To me, that's what life is all about. This is how the art of fashion in Chattanooga felt and overall, being back in the south amongst a creative community such as this one.
This vibrancy and richness in life seemed to find itself in the large moments and the details during both events. A typical fashion show in NYC lasted 10-15 min. Yet, Chattanoogans were given a memorable experience that carried throughout the entire evening. Guests were able to enjoy dinner, grab a drink, and wander to and from local vendors while engaging in conversation that felt genuine. My favorite part of the evening that left me stunned… the fashion show itself.
Diversity was emphasized through the celebration of different ethnicities, ages, and body types. Models were smiling and dancing. The style of dance was contemporary yet expressive with personality in each step. Because I had only seen straight faces plus traditional strutting down the runway, I was moved by the ways each model expressed themselves through dance. The crowd made joyful noise– clapped to the music, let out excitement when a certain look appeared, and whispered oohs and aahs. In NYC, no one spoke or murmured a laugh. It was not encouraged nor normalized to show much response, rather a stiff clap and seemingly nonchalant up and down gaze per outfit. This industry norm not only felt dated, especially in terms of diversity, but stuffy when thinking about how uninviting it can feel as a whole. My hopes were renewed as I experienced fashion in a more with-the-times, heartfelt way in Chattanooga. For I believe it is the emotion one expresses while gazing upon art that is the very thing that connects us all.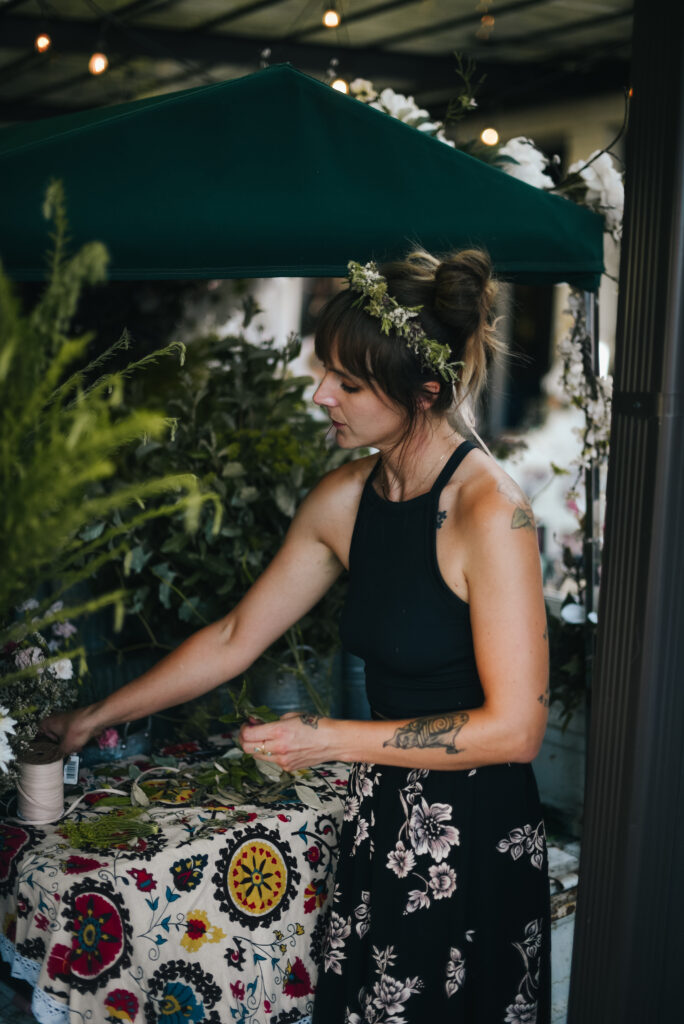 We decided to be a part of these two events not only for what meets the eye, like matching aesthetic or glamorous decor, but for the desire our team has to support small businesses. In NYC, the atmosphere very much felt like a competition amongst creatives and designers which was draining to my soul. Upon accepting this job in Chattanooga, I knew the majority of individuals preferred to cheer on rather than tear down and collaborate thoughtfully rather than compete discreetly. Unwine in Style featured fashion from local boutiques and designers while Le Chat Nooga welcomed up and coming designers from across the nation!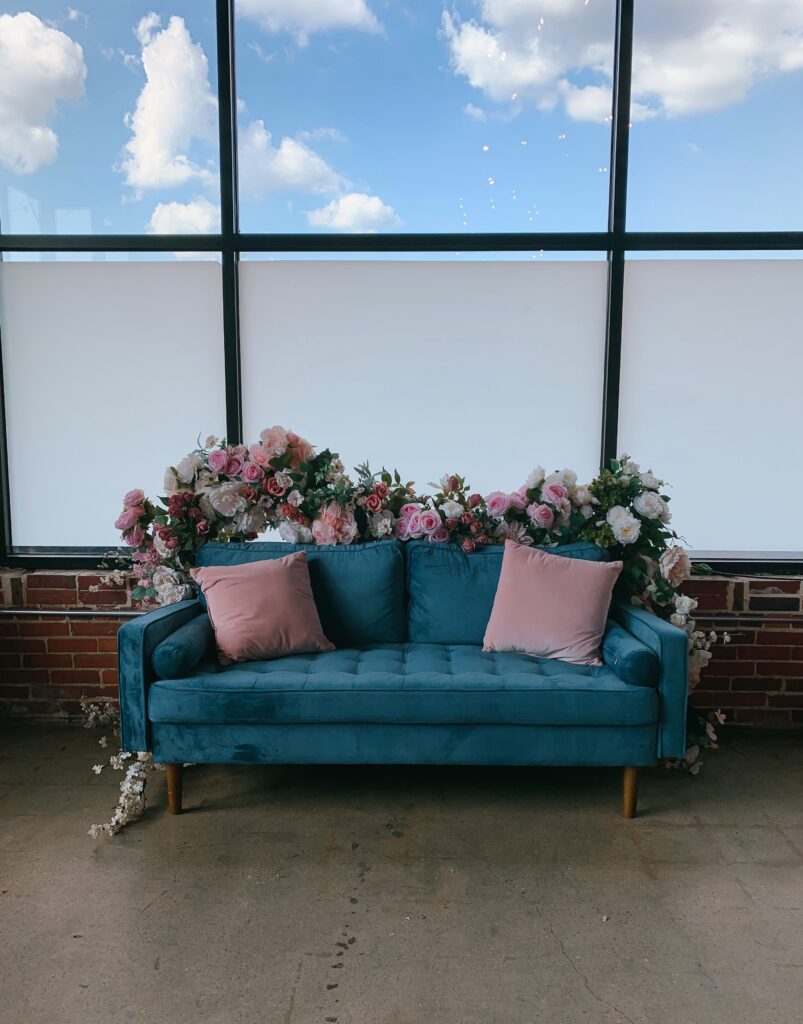 The set-up at both events included Little Blume, flower crowns, products from our Market St. shop, and two different flower installs. At Le Chat Nooga, our purple hydrangea and rose install sat atop this old double-decker bus. SO FUN for a photo-op, and the pictures turned out beautifully. Since this was a French themed event we brought many Parisian-esque products such as Tokyomilk scents, quirky keychains, dried lavender bundles, and rose petal soaps.
At Unwine in Style, we laid our peachy pink rose and peony install across a dark turquoise couch– a color combo we now feel inspired to factor into a bouquet! We wanted our creative executions at this event to feel glamorous since the guest attire was blush and gold cocktail. Erin and I met this super sweet mother/daughter duo (pictured above) who made bouquets for the daughter's birthday. They both willingly started posing like naturals for the camera which made our evening!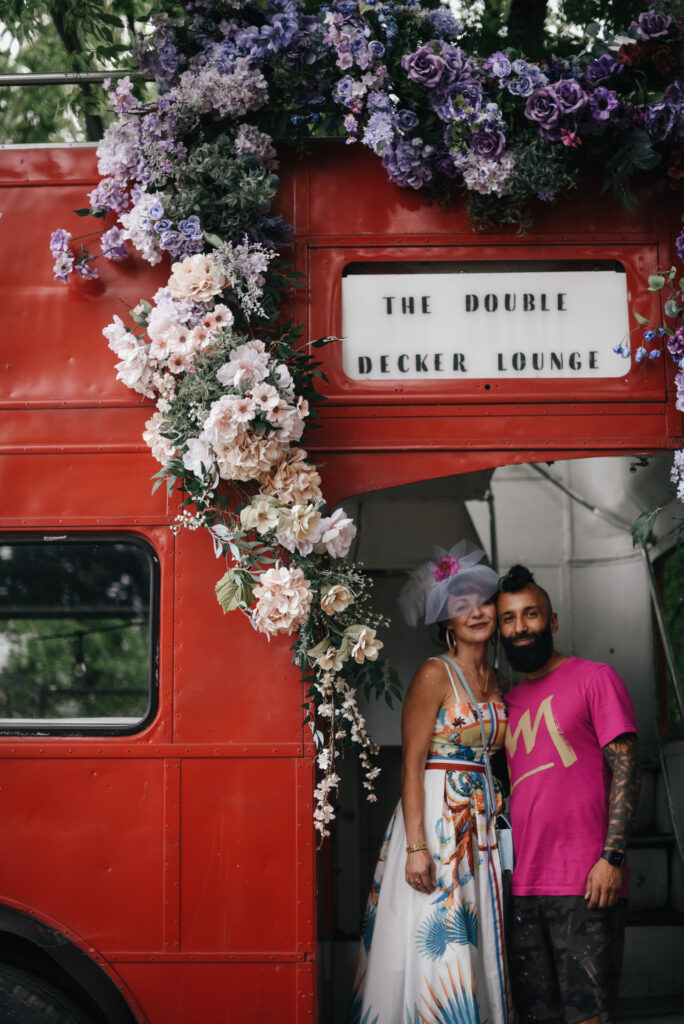 If you stayed this long, I am grateful you have taken the time to read a little about my story. What a refreshing, joyful post this was for me to write. Big thank you to Shanna from Chattanooga Fashion Expo and Edwina LaShan Ector, creators of Unwine in Style, for putting on two fun events! The Joli Jardin team and I are so appreciative of the love and support from the Chattanooga community as well as our loyal customers. Thank you to those who attended either event. If you'd like to stay in the know about upcoming events, sign up for our monthly newsletter and follow us on Instagram. Our blog posts are released every Tuesday. We're thrilled to have a space to share behind the scenes moments and personal insight like this post, and we're grateful to have readers who care.
Until next time,
Ashley
*all pictures were taken by me or Erin except for three runway pictures borrowed from Edwina Lashan, taken by Millicent Garland Photography.